Team Building Activities
Team building activities are fun and benefit in the form of social bonding, however, they can also carry a range of other business benefits.
How Team Building Activities Benefit
Over the past 25 years, we have developed a wide range of indoor and outdoor team building activities, designed to bring out the best in your group. These activities allow individuals/teams to identify their strengths and weaknesses, which can then be built upon or improved respectively.
One of our most popular events is our Crystal Challenge team event. This involves a series of team activities that require teams to work together effectively in order to succesfully complete each one. Key benefits of this event include: Competition, Problem Solving, Leadership, Communication to name just a few.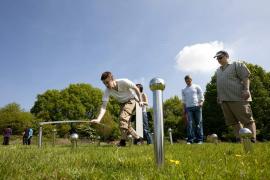 Activities take place in a structured way over a short period of time and this can be useful in creating a simulation of projects which might take much longer if they were a business project. Lessons can be learned in this controlled environment in a very effective way.
Something as seemingly simple as listening is an interesting example. Often people will look at an activity and assume that they understand it based on what they see in front of them. However, the briefing may be less than straightforward, or it may contain detail essential to success that isn't obvious without effective listening.
Assertiveness is another quality that can really show itself during an exercise. In some cases too much of this can be detrimental to the outcome of the task. Frequently several people will want to demonstrate their assertiveness at the same time and this can lead to a useful examination of those times when exactly the same thing happens in a work environment where there is more to lose.

Interpersonal Competencies
Interpersonal competencies include listening skills, whether someone is a 'team player', assertiveness, oral communication, negotiation and persuasion. These can be focussed on individually or as a whole in an activity.
Each activity is run by an experienced facilitator who can help individuals to understand and take lessons from the activity they are participating in. It is very important that this is done naturally and intelligently, otherwise it may feel contrived or corny.
Other Competencies
As well as Interpersonal Competencies there are other benefits to be gained from participating in activities. These include Personal (as distinct from Interpersonal), Management, Leadership and Motivational Competencies.


Free
Quote
Unrivalled Service
Need Help?
We will call you back