Team Building Events
Getting Your Corporate Teambuilding Event Planning Right
We often receive telephone calls from people who have been tasked with organising corporate team building activities who have not had to do this before.
This can be quite daunting and we appreciate that you might be on a learning curve for your team. It is essential that you choose an experienced and professional event organiser as your partner. We are here to help you, so that you can provide guidance and leadership to the project.
A corporate event is a task outside of your usual work and a project where you can really stand out to your managers. In addition, if it is a corporate family fun day it is even more important that things run smoothly on the day as there are often large numbers of people involved.
Planning your team building activities - how we can help
As experienced corporate event organisers (our Company was established in 1989) we can help you with:
Corporate event planning resources and venues

The sourcing of all of your external requirements such as transport

Corporate team building indoor and outdoor activities to suit your group delegates and the theme of any accompanying conference

Corporate event planning ideas and tips for your event

Suggesting corporate fun activities, games and exercises so that the day is not just all work. We feel that playing together is as important as working together.
This leaves you free to concentrate on your in-house sessions or conference arrangement
As advisers we will involve you all of the way, so you make the final decisions, but we make sure that everything happens the way you want it to, from ice breaker to finale.
Perfect Venues for Perfect Corporate Events
You need to find the best venue for your corporate event. It may need: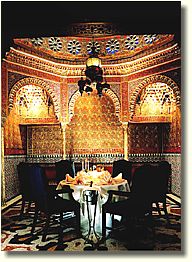 To be in a convenient location for all event delegates (UK or Europe)

To have the number and type of bedrooms to match the group

Meeting rooms of the correct size

Land for corporate entertainment activities

Specific leisure facilities

Space for corporate team building events
We have an established database that we can search using very specific criteria, giving you several suitable options to look at and saving you a great deal of time.
We do not charge a fee for this teambuilding / evening event venue sourcing service. It is simply one of the first stages of the full service we offer you.
New Forest Venues
The picture above shows the magnificent Alhambra Room at Rhinefield House Hotel in the New Forest.
This impressive house was built as a tribute to Mr Munroe Walker by his wife to include many of his favourite places from his world wide travels. The Grand Hall is a replica of London's House of Lords and makes an ideal debating chamber.
You could hold your conference in a venue with an event in history which ties to your theme. Perhaps a communication theme would suit the site of the first radio broadcast by Marconi or your event would benefit from the magic of a walkway unchanged since Henry VIII walked there with one of his wives.
Current events in some companies may lend themselves to the site of the last recorded duel in history!
Useful Teambuilding Links...
Free
Quote
Unrivalled Service
Need Help?
We will call you back