Axe Throwing
/res/axes2.JPG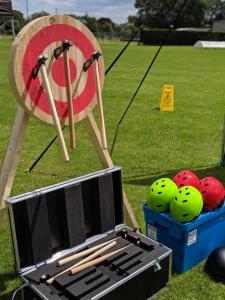 If you have been on one of our Country Sports events this summer, you may have experienced our new activity... Axe Throwing! If not, you can find out more below.
At the begining of the summer, we introduced Axe Throwing into our outdoor events inventory, it's the perfect activity to be included in our Country Sports, Spy School, Perfect Teambuild and Club Adrenaline events!
Event Outline
Team members take it in turns in learning how to properly throw an axe to score as many points on the target as possible!
Equipment
We use 'tomahawk' axes for our events, which is a type of single-handed axe from North America, traditionally resembling a hatchet with a straight shaft.
History of Axe Throwing
Tomahawks were general-purpose tools used by Native Americans and later the European colonials with whom they traded, and often employed as hand-to-hand or a thrown weapon. Now tomahawk throwing is a popular sport among American and Canadian historical re-enactments groups . . . and corporate teambuilding!
To find out more, give our events team a call on 01590 676599.