Boosting Team Morale
/res/team%20blog
The World Cup dream is sadly over for England supporters… moods are flat and everyone seems a little low – why not organise a teambuilding event to re-motivate your team and improve staff morale?
What is team morale?
Team morale describes the emotions, attitude, satisfaction and overall outlook of employees during their time in a workplace environment (Susan M. Heathfield, 2018). When a team displays good morale, there is excitement and enthusiasm generated, as well as an optimistic approach towards the team effort and motivation.
When team morale drops, it is important to rebuild it… if the team are suffering then the business will also suffer. Business' that have a team with high morale typically display higher productivity ratings, better staff engagement, and a more pleasant atmosphere.
How can teambuilding help boost team morale?
Teambuilding activities are a fun, uplifting way to boost employee morale within or outside your organisation. Employees get to work together on fun and challenging tasks and are given the opportunity to show off their individual talents and skills. Teambuilding activities can build team identity, encourage strategic thinking, and promote healthy competition for the whole team! All of these things are vital to a well-functioning and successful business and can really be brought out by fun teambuilding activities.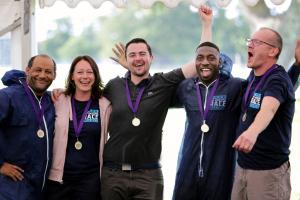 What teambuilding events are best for boosting employee morale?
Here at The Teambuilding Company, we over a huge range of teambuilding events, from indoor activities that can happen in your office to outdoor adrenaline fuelled activities! We are a completely mobile company so can set up anywhere in the UK and even overseas. We work at venues across the UK using hotels, stately homes and conference centres which host our activities and we can always suggest some venues in your preferred location.
If you would like to find out more about our teambuilding activities and how they can help boost your team's morale, give our events team a call on 01590 676599.