Feeling Hot, Hot Hot!
/res/The%20Games%204.JPG
I think we can all agree, the weather outside is hot, hot, hot! Alex Deakin (Met Office meteorologist) has stated that we are on track to beat several weather records should the heatwave persist!
What is a heatwave?
The Met Office defines a heat wave as "an extended period of hot weather relative to the expected conditions of the area at that time of year". A heatwave in the UK occurs when the daily maximum temperature exceeds the average maximum temperature by five degrees or more for five consecutive days.
Why do heatwaves happen?
Heatwaves are common in the summer when "high pressure" weather systems develop across an area. Heatwaves happen in both the Northern and Southern Hemispheres during the summer as the 'jet stream' follows the path of the sun (whatever that means)!
TBCo's Top 5 Heat Safety Tips
Obviously our event instructors and clients are out in the sun on our outdoor teambuilding events so we have come up with 5 top tips to help keep them safe in the sun:
Drink more water than usual
Hydration is key! Make sure you keep your body hydrated by organising a "drink station" on your outdoor teambuilding event!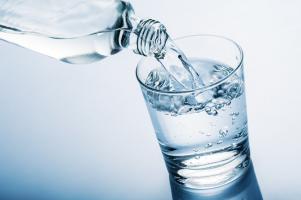 Dress for the weather
A quote we normally only bring out in the winter "There's no such thing as bad weather, only unsuitable clothing" (Alfred Wainwright). In hot weather make sure you wear lightweight clothing to help keep cool. Other things to remember to wear to help keep you protected: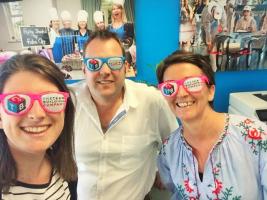 Find shade
Where possible always try and find some shade to "chill" in… whether that be one of our gazebos that we bring along to our outdoor events or under a tree, make sure you give your body some rest from the sun!
Avoid extreme exercise
Obviously some of our events can be quite sporty and energetic but it is important not to take things too seriously (quite hard for the competitive lot), all of our events can be done without requiring excessive exercise.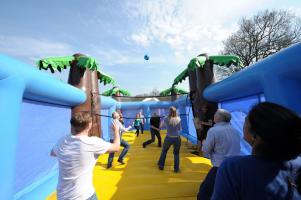 Look out for others
If you think someone may be showing symptoms of heat exhaustion or heat stroke, make sure you get help! All of our event managers are first aid trained and can recommend what do to if you start showing symptoms… if in doubt call 111.