TBCo's Royal Wedding Call Up
/res/DSCN0027%20Medium.jpg
What a weekend ahead! Two massive celebrations… The Royal Wedding and the FA Cup Semi Final!!
Starting off with THE wedding of the year! Price Harry will marry Meghan Markle on Saturday at 12pm! Everything has now been organised and prepared by The Lord Chamberlain's Office at Buckingham Palace!
We normally get a lot of enquiries from event organisers to support on events however we're not sure why we haven't been asked to supply some of the essentials for the big day…
First up – The Cake!
Claire Ptak (an east London pastry chef) is due to make the wedding cake for Saturday… I'm sure we could have come up with something fit for a Royal Wedding on our Ready, Steady, Bake event!
Transfer
After the ceremony Prince Harry and Meghan Markle will travel around Windsor Town in the Ascot Landau carriage… we will be on stand-by just in case with our segways, or maybe one of our client's F1 cars!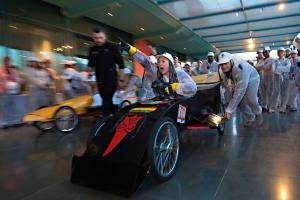 Music
Ellie Goulding performed at the Duke and Duchess of Cambridge's wedding in 2011, so the big question is, who will be providing the music for this Royal Wedding's reception? Our clients have been practising on our Perfect Harmony event, just in case for a last minute call up!
The Dress
Finally, what everyone has been talking about… who will be designing Meghan's wedding dress? Again our clients have been hard at work on our Generation Game creating beautiful frocks as part of our Catwalk Caper activity!
If the Royal Wedding isn't for you and you're a footie fan, then Saturday also brings the FA Cup Semi Final where Chelsea will play (and hopefully win) against Man United!
If you're not into football or the Royal Wedding… take inspiration from our clients who are spending the day blasting around the Solent on our Rib Treasure Hunt!