Totally Thames
/res/thamesblog.jpg
The 'Totally Thames' festival is taking place all the way through this month on the Capital's waterway! This festival celebrates the River Thames by hosting a range of community events and activities.
Why not join in the celebrations, ditch dry land with your team and make a splash on the River Thames with our Thames Rib Treasure Hunt!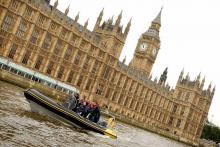 Starting from St Katharine's Pier by Tower Bridge we travel through the heart of the City past London's iconic landmarks including Westminster, the London Eye and MI5 where teams will take part in the interactive treasure hunt using our iPad tablets. The Ribs then turn east for a high-speed blast past Canary Wharf and The O2 to the Thames Barrier before returning to St Katharine's Pier for prize giving!
It's the team that masters delegating tasks to maximise the team's strengths that wins. There are all sorts of nautical activities to keep your crew busy, whilst at the same time managing the challenges that come… and then go... on the tablets.
What Our Customers Have Said...
The trip down the Thames was amazing, and the treasure hunt was great - just hard enough to make you think. but easy enough to get lots right. As a team building exerise I thought it was brilliant - we got to know each other and it was fun! I would highly recommend! Anon.
If blasting around on the water isn't for you, we also have several land-based London Treasure Hunt events including our Black Cab Treasure Hunt and Monopoly Treasure Hunt!
To find out more, please give us a call on 0800 975 0728!