Carbon Footprint
The Team Building Company goes green
Over the last 20 years there has been considerable evidence which shows that the build up of greenhouse gases such as carbon dioxide has grown due to human activities.
If nothing is done about this increase in rising global temperatures then sea levels will rise and which in turn will alter local climate, rain forests, crops and water supplies. It could also affect our own health and that of animals.
Many ecosystems will be greatly affected and disturb the natural balances that are already incredibly delicate.
Climate Control model simulations suggest that by 2100 average surface temperature will have increased by 2.5°C.
Killer heat waves will increase and there will be an increase in flooding.
Sea Levels could rise by 49cm over the next 100 years.
Further melting of the arctic ice caps will prevent the Gulf Stream from providing the UK with warmer waters.
What can we do?
An organisation called Carbon Footprint has teamed up with Tree Appeal. Trees will be planted to absorb CO2 and assist in the rehabilitation of global warming.
Each tree planted can breathe in about 730 kg CO2 emissions over its lifetime.
It's estimated that the average person needs to save about 7,000kg of CO2 per year. This scheme is endorsed by Bill Oddie, the TV Wildlife celebrity.
We at Progressive Resources have pledged to plant a tree for every event that we organise. Planting just 10 trees each year as a minimum is just one strategy for aiding the relief of global warming.
We run 850 events per annum, that's a lot of trees and without the trees there will be no teambuilding and without teambuilding....
The trees planted will also provide natural habitat for wildlife and small ecosystems.
We have calculated how much carbon we produce on average per event:
A multi Activity day will have a footprint of 50kg CO2
It's A knockout (petrol blowers) will have a footprint of 20kg CO2
Travel to the event:
At 150 miles the van and people carrier would have a footprint of 74kg CO2
At 300 miles the van and people carrier would have a footprint of 178kg CO2
The participants would also have to travel to the event:
10 cars with 30 miles of travel to and from the event would have a footprint of 116kg CO2
15 cars with 40 miles of travel to and from the event would have a footprint of 232kg CO2
An approximate lowest calculation:
50kg CO2 + 74kg CO2 + 116kg CO2 = 240kg CO2
And an approximate highest calculation:
50kg CO2 + 178kg CO2 + 232kg CO2 = 460kg CO2
Each tree planted can Breathe in 730kg of CO2 in its lifetime. The calculations are simple and benefits are substantial.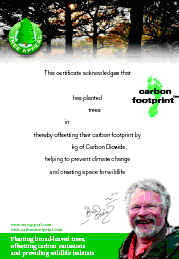 Below is a list of a few simple cost effective steps that you can do immediately to help reduce the level of emissions and help reduce global warming.
1. Ensure your supply of electricity is from renewable sources only (e.g. wind and hydroelectric power)
2. Turn electricity off when not in use (lights, television, DVD player, computer etc...)
3. Turning down the central heating by just 1 or 2 degrees C will help
4. Turning down the water heating by only 2 degrees will save you a significant amount of money
5. Check the central heating timer - there is no point heating the house when your not in it.
6. Fill your dish washer and washing machine with a full load - this will save water, electricity, and washing powder
7. Fill the kettle with only as much water as you need
8. Unplug your mobile phone as soon as it has finished charging
9. Defrost your fridge/freezer regularly
10. Do your weekly shopping in a single trip
11. Hang out the washing to dry rather than tumble drying it
12. Go for a run rather than drive to the gym, saves money on gym memberships too
Other ideas for reducing global warming which may cost at first but will pay off within 3-4 years.
1. Fit energy saving light bulbs
2. Install thermostatic valves on your radiators
3. Insulate your hot water tank, your walls and loft
4. Replace fridges and boilers if they older than 15 years. New ones have an energy efficiency rating of A.
Travelling can also add to Global Warming, these are some ideas to reduce your travelling emissions.
1. Car share to work and for dropping the kids at school
2. Use public transport rather than your car
3. Use a train or coach instead of domestic flights (e.g. from London to Newcastle)
4. Take the ferry or channel tunnel instead of flying to France
5. See if your employer will allow you to work from home one day a week
6. Consider replacing your car with a diesel engine. You can even make your own Bio diesel fuel.
7. Hire a bicycle when on holiday to explore rather than a car
8. When you leave your hotel room, turn the air conditioning and lights off.
9. Ask for you room towels to be washed every other day, rather than every day
Finally a few additional tips for reducing emissions caused by secondary carbon footprinting.
1. Buy local wine i.e. if you live in the UK then buy from European countries rather than Australia, South Africa, and America
2. Try growing your own fruit and vegetables rather than buying them.
Think about your footprint at work too? Do you turn lights off? Print on both sides of paper? Leave your computer running? If you do then try and remedy all of these and help with reducing global warming.