Team Building Activities
All of our events are made up of a number of fantastic team building activities – from building rollercoasters to awesome treasure hunting. Not only are these activities really fun but they're business relevant and genuinely help to build your team…
How Team Building Activities Benefit
Over the past 25 years, we have developed a wide range of varied indoor, outdoor, evening and icebreaker team building activities. The sheer mixture of activities we have on offer has been developmental in us becoming one of the leaders in the corporate teambuilding industry.
These activities vary on a scale from pure fun to seriously relevant; but don't worry, even the most fun activities encourage teambuilding, and the seriously relevant activities retain fun elements.
These activities are brilliant for helping your group to identify their strengths and weaknesses, all activities encourage hugely beneficial business traits such as leadership, intelligent thinking, listening, clear communication and problem solving.
One of our most business relevant (and popular) events is the Crystal Challenge. This involves a series of activities which require teams to work together effectively in order to successfully complete each one – they literally can't be done without teamwork!
For an event with some of the cerebral and spatial challenges of the Crystal Challenge but interspaced with the more enjoyment-focused activities of Country Sports; we have The Perfect Teambuild. This event mixes team building in the form of command tasks and team bonding with extremely fun activities such as laser clay pigeon shooting and human table football.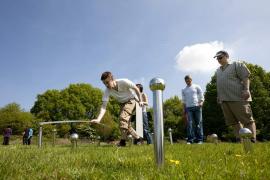 Activities take place in a structured way over a short timeframe which is useful in creating a business metaphor for projects which would take much longer in a corporate setting. Lessons can be learned in this controlled environment in a very effective way.
Something as simple as listening cannot be underestimated in its importance. Often people will look at one of our activities and assume that they understand it based on what they see. However, the briefing will be less than straightforward and contain detail essential to success that isn't obvious without actually listening!
Assertiveness is another quality that can really show itself during an exercise. In many cases too much can be detrimental to the outcome. Frequently several people will want to demonstrate their assertiveness on a task which only slows the process.
Click here for our full list of Team Building Activities
Our Command Tasks are great for bringing out and testing all the factors discussed above.
Interpersonal Competencies
These include listening skills, whether someone is a 'team player', assertiveness, oral communication, negotiation and persuasion. All our activities promote the improvement of interpersonal competencies in a light-hearted manner.
Each activity is run by an experienced facilitator who help individuals to understand and take lessons from their participation. It is very important that this is done naturally and intelligently, otherwise it may feel contrived or corny – our experienced staff are expert at delivering fun, constructive feedback.