Testimonials From Our Clients
Over the course of a year we work with hundreds of different companies, organising an enormous variety of team building activities and corporate team building events.
Below are some of the kind things that have been said by our clients about our team building events.
Team Building Testimonials ...
Manchester City Football Club called on The Teambuilding Company to arrange a pre match team building session for their players.
We arranged an event with the theme of Champions with various sports based team building challenges for the players to complete.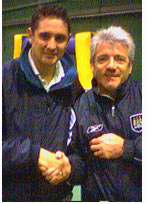 Left: Team Building Event Manager David Getzig with Kevin Keegan
'We enjoyed the activities and found them beneficial to the team. David managed the event very professionally and I would have no hesitation in recommending Progressive Resources for such events.'
Kevin Keegan
Manchester City FC won their next Premiership match!
To read more about this 'All Star' team building event - Click here
International Distillers & Vintners
What they said about their team building event: "It was interesting to observe the different characters that evolved throughout the course and how you worked with us to get the best out of each individual"
Roehampton Priory Hospital
Commenting after the event: "Moving from one activity to another allowed us not to dwell on one subject for too long and prevented the feeling of being stuck"
British Telecom (BT)
What they said about their corporate event: "You brought a strong feeling of teamwork and purpose to the group and gave us an invaluable insight as to how to behave and how we can capitalise on our capabilities in the future"
Select the business sector below to view testimonials from clients in that sector.
Automotive and Airline
Broadcasting
Business Services
Financial Service
Computer and Software
Education and Public Service
Electricity and Gas
Healthcare and Pharamceuticals
Major Retailers
Petroleum Companies
Technological
Telecommunication
You will see that some of our testimonials refer to an informal atmosphere and others praise structure and organisation. We ensure we understand the requirements of each unique event and create the right atmosphere to suit the desired outcome. This is an important part of successful event planning.