Is your team ready to take on Lady Sweetener?
/res/rookie.jpg
… and so, it begins! Tonight the 15th Series of 'The Apprentice' airs on BBC and here at The Teambuilding Company, we cannot wait! In fact, we enjoy it so much that we have created an event based on it 'The Rookie'. Are your team ready to pit their wits against our very own Lady Sweetener?? Do you want to identify the leaders within your team? Test people's teamworking skills? This could be the ideal event for you!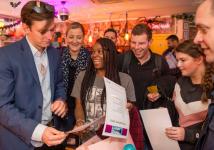 The Rookie
After meeting 'Lady Sweetener', a rather disconcerting business tycoon, your teams will be given a list of weird and wonderful objects to obtain, using a limited amount of spending money, whilst working against the clock! They will need to use teamwork, charm and their best business acumen to become the winning team and be hired as this year's 'Rookie', avoiding the wrath of Lady Sweetener at all costs!
The beauty of this event is that we can run it from any venue, all we need is a room to start and finish in, whether that be a company office, conference suite or even a private room in a restaurant.
Each event is bespoke and written dependent on location so no one event is the same!
… and for those who are worried about their weary feet, we can even add black cabs to your event!
For more information on this event, please give our events team a call on: 0800 975 0728