Progressive Team Challenge
This event is open to teams of between 5 and 10 people and several will compete during the day.
It is ideal for smaller teams with restricted budgets who can benefit from the economies of a larger event.
How to Apply
If you would like to make an enquiry about the next Team Challenge Call 01590 676599 or fill out our form at the bottom of this page.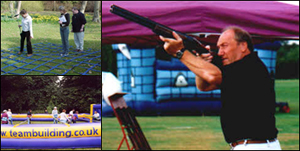 Activities will include:
Laser Clay Shooting
Human Table Football
Minefield Crossing
Bridge Build
Chemical Rescue
Blind Fold Driving
Quad Bike
Great Egg Toss Finale
Maximum number of teams is 18.
Certificates for each participant and a Trophy for the winning team.
Hotel accommodation is available at various excellent local hotels. Starting at £90 per person for dinner, bed and breakfast. Please call for options and availability.
Event Location
New Park, Brockenhurst, Hampshire
Brockenhurst is situated on the A337 between Southampton and Bournemouth. The nearest motorway junction is J1 of the M27. There is a mainline train station in the village which links to London Waterloo. The activity site is less than a mile from the station and transport can be easily arranged.
Details of other event locations are available on request.
There are Progressive Team Challenges throughout the year including one water-based event.

If you would like to be updated with details of future events please register below.