Medieval Mayhem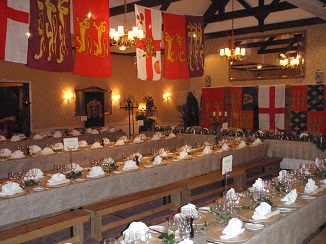 Medieval Mayhem is a themed Murder Mystery in which the King dies and you, the audience, have to work out which of the courtiers presented to you committed the crime.
It's A Court At Court!
We create the environment of a Medieval Court so that your guests can enjoy a fully themed banquet. You can even dress up if you want to and this makes for a very memorable evening.
Our team of trained actors will take over the venue setting of your choice and play out this medieval themed script. A cry of alarm rings out across the halls as the king has been found dead. Murdered! Plot lines will be woven into your evening, motives revealed and blame pointed in all directions. It's up to your group to solve this royal mystery!

We can provide a host of Murder Mystery themes, so if Medieval Mayhem isn't your 'crime scene' then please do check out or full range of scripts.