Summer events are still on!
/res/TBCo-december-blog.JPG
Summer Season 2021
We can't believe how quickly the summer has gone, with September almost over and October just round the corner. To say this summer season has been busy would be an understatement but we could not be happier to welcome back clients and fully engage with people face to face once again. It's been all smiles, as some of our clients have used our events to reunite teams that have been separated for months, if not over a year by the pandemic!
We've had all of our kit out but our It's a Knockout event has been the most popular event by far. Many clients have also enjoyed spending time on the gorgeous south coast, taking part in our Rib Treasure Hunt and Sailing Days with others learning some new skills from our Country Sports event including Duck Herding and even Ferret Racing… it's a strange old business!
As the winter months draw in, we would like to remind our clients that we also have a whole range of indoor and evening events on offer. If you're after fast paced competitive team building our F1 challenge is perfect, teams create their own F1 cars and then put them to the test in a final head to head race. Alternatively, why not reward staff with an evening of Cocktail Making or Chocolate Making? A fun filled and delicious/ entertaining way to treat your team this festive season.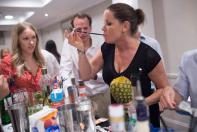 If your still not ready to bring teams together in person then why not take a peek at our Virtual Events, from Quiz Nights to Virtual Casinos, we've got it all!
With over 80 different events on offer, we have something for every team, check out our full list of events or get in touch with our Events Team by calling 01590 676599 or email events@teambuilding.co.uk.