Stay on Target
/res/archery3.jpg
Here at The Teambuilding Company we love a good target sport!
We have a range of target-based activities including air rifle shooting, archery, laser clay shooting, axe throwing, crossbows and pistol shooting. Target sports are all about discipline, concentration, patience and focus… but how does this link to team building?
What do target sports bring to team building events?
Competition
Target sports such as archery, really 'hit the spot' to providing a competitive element to your team building event. Our Archery GB qualified instructors will start by giving one to one guidance to each member of your group to help them learn the skills to hitting the target, then it's time for your teams to compete for points! Each member of your team will be given a number of shots to earn as many points as possible. These points are then added up to overall team score.
Inclusive
Target sports offer the opportunity for guests to try something they may never have done before which levels out the playing field for everyone. Participating in activities in a comfortable, non-threatening environment will help develop confidence in individuals. As all of the activities are team based they encourage support from other participants to do well as a group instead of focusing on individual scores.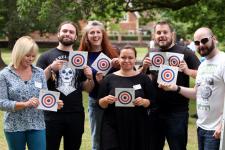 Increases Motivation
We might not all be natural axe-throwers, however that one shot on target can really boost a team member's self-esteem! As well as this, the inclusion of target activities on our events also increases motivation as individuals will be working as a team to score as many points as possible, participants will be supporting one another and investing in everyone doing well. A positive and motivated team will help create good morale in the workplace.
Fun
Most importantly, target sports (like all of our activities) will reinforce the value of having fun in the workplace and what significant results can be achieved when fun is involved!
Where can target sports events run?
All our activities are completely mobile so we can set up anywhere across the world, we work with a range of venues that offer great outdoor space, perfect for our events.
Our target sport activities work brilliantly alongside a mixture of other activities from duck herding to segways and is a great addition to any event. Our Perfect Teambuild event is a classic example of how these activities all merge together.
To find out more about our 'range' of target sports, give our events team a call on 01590 676599.