Benefits of Indoor Team Building
/res/Brunel1.jpg
Summer is sadly behind us as we prepare ourselves for the cold months ahead… it's important to stay motivated during this time, so why not book a team building event?
We don't just do outdoor events here at The Teambuilding Company, we also have a huge range of activities to keep you and your team indoors. Team building events work just as well when run indoors as they do outdoors. We've spent the last thirty years creating some innovative and exciting indoor team building activities and events.
Here are our top 5 benefits to indoor team building;
Whatever the weather
A given really… as there is a roof over our heads, we can focus on the activity in front of us rather than finding cover from the rain!
Venues
We work with a range of venues that can cater groups of up to 10,000 people! The benefit to an indoor teambuilding event is that there are plenty of options around the UK where we can run them, from manor houses to local sports halls!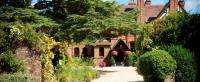 We can come to you
Depending on your office space, we can run most of our events right at your desk (or around it).
Previously we have built rollercoasters around an office, created crime scenes in the meeting room, given everyone a drum at their seats as well as turning the office canteen into a chocolate factory!
Available activities
We have some activities in our inventory that require indoor space and simply cannot take place outside, such as our range of cooking events!
Comfort zones
Although we all enjoy getting people out of their comfort zones and there are studies that show the benefits of doing this, sometimes people just don't like it and will refuse to participate from the outset. If they think they will be jumping around and competing in a high-energy Knockout event they may not be as willing to attend compared to some problem-solving activities in a meeting room!
All our indoor events are business relatable; they either involve team competition or collaboration – most of all though, they are great fun! We promise your event will be the talk of the office for weeks…
To find out more about our indoor teambuilding events, give our events team a call on 01590 676599!